The most common approach people take when they want to learn how to drive is enrolling with a driving school for some driving lessons. It is by far the simplest and most systematic way to learn how to drive.
Many driving schools like National Driving School in Dublin are well trained and have a team of highly driven and dedicated driving instructors which assist the student in becoming competent drivers who are well prepared to jump behind the wheel. 
National Driving School is one of the most reputed driving schools in the Dublin area and one of the main reason for its popularity is that they have dedicated and well-trained teachers who are able to guide the students in a way which is highly effective, constructive and patient.
The students have reportedly said that they feel more at ease, which helps them in performing their best. All the teachers have been trained to teach all types of students, from the ones with prior driving experience to those with no prior driving experience at all. They are versatile and patient, making them the most ideal driving instructors out there.
I'm about to attend my first driving lesson ever – what should I expect?
If you are a keen driving enthusiast who is waiting to attend their first driving lesson, having serious nerves is normal! In fact, it would be kind of weird if you don't have any nerves at all. Nerves can be stressful, but they are also a good indicator of excitement. And you should most definitely be excited, driving is an awesome skill to have, and it may seem daunting at first but it is quite a fun activity!
Things you must expect before attending your first driving lesson –
You will be asked to present your provisional driving license
It is required by the law for you to have a provisional driver's license. This license grants you permission to drive in a car with a qualified driving instructor. This license is required by every driving school you enroll with and it lets you practice your driving skills as well. This will be your most important piece of document you will require when you are learning how to drive. This license is your first step to learning how to drive, so be completely prepared with the license in your pocket, because your driving instructor will ask you for it.
You may not necessarily start off by sitting in a car
Different schools have different approaches. While some schools would like to start off in a car by teaching you the basics of the functioning of a car, this isn't a definite step. Some schools and driving instructors may prefer having a proper classroom teaching experience for the first time. But don't worry, you will have some real car driving time too. The order just depends on the driving instructor you choose.
There will be a lot of halting
Once you finally do get into the car, be prepared to hit the brakes more than once. Halting is very common because driving instructors aim at nipping bad driving behaviors in the bud. This is why any time they notice you doing something wrong (and trust me, since you are just learning you most definitely will make mistakes), you will be asked to hit the brakes and pull over.
You will be in the driver's seat
Yes, you read that right. Unlike all the other times you have had to sit in the passenger seat or in the backseat, now is when you will have to sit in the driver's seat. Sure this means that you will be nervous, but remember, this is the only way you will learn how to drive. So sit in the driver's seat, take in all the instructions given to you and give it your best shot.
You will have to learn something which is referred to as the "Cockpit Drill"
The cockpit drill is something all aspiring drivers have to do before they start driving. You should be prepared to memorize this by heart and make it a healthy habit to always perform this drill irrespective of whether you have a driving lesson or not.
The cockpit drill requires the student to check for the following –
Check whether all the doors are closed properly
Make sure you are sitting in a comfortable position. Make any adjustments that are required
Make sure the steering wheel is at a comfortable level and position
Put on your seatbelt
Adjust your mirrors accordingly so that you can see everything clearly
You will not be able to wait to get into the car for your next lesson!
After you get over the initial jitters and nerves, we can guarantee you that you will not be able to contain your excitement for the next driving lesson! The more lessons you take, the better you will get at driving.
Still looking for a reliable Driving School?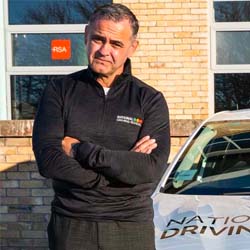 Here at National Driving School we are positioned to take you and your driving needs to the next level.
We have elevated ourselves to become a household name and the leading provider of driving lessons in Dublin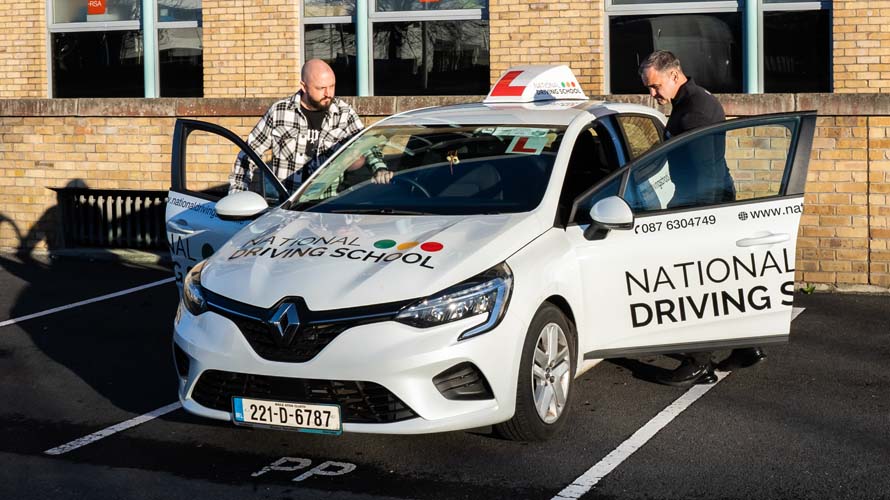 Why Choose National?
Arrive on time, Everytime
Pick-up & Drop-offs
Clean & Modern Cars
Flexible Booking Times
Fully Qualified Instructors
Find out more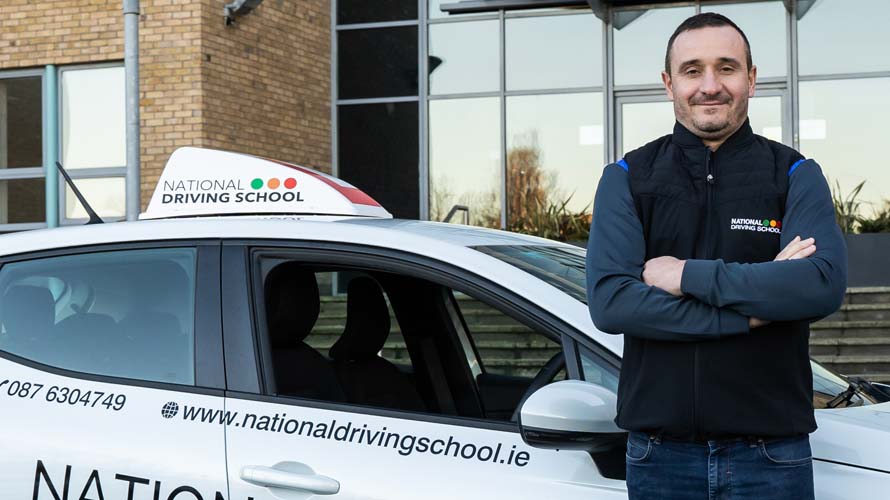 Need Help?
If you need any help choosing lessons or general questions you can get in touch.
30 Years Experiance
Male & Female Instructors
Contact Us