Gain the confidence to pass your test with our Pretest Lessons.
Time to kick start your Pretest Driving Lessons with one of the highest rated driving schools around your town and Dublin City.
Let's get started
Start Your Pretest Lessons
It's pretty simple to get started just follow these steps.
Start with us
We will see and assess your starting point and then start with your required driving lessons.
Find your instructor
Once you have made contact we will pair you with a local National driving instructor.
Pass the test
You will have the same driving instructor all the way from EDT to passing your full driving test.
Pretest Driving Lessons
Passing your driving test couldn't be any easier with our pretest lessons.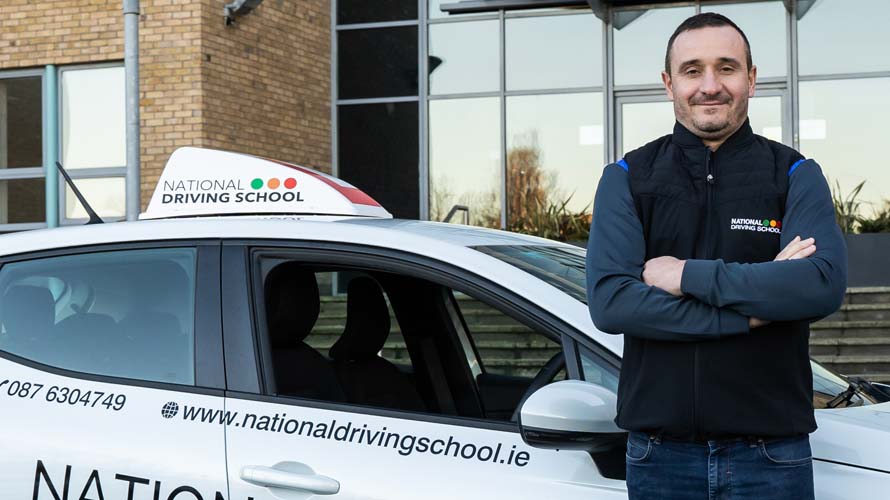 Pretest Driving Lessons Dublin
Our Pretest lessons have proven to be the main reason our pupils pass their test first time at all Driving Test Centres. Why is that you think? Aren't all instructors the same? Absolutely not.
We are one of the most respected schools in this country and even the Testers understand the level we operate at.
You see any school can talk about how magnificent they are but here at NDS we like to show these facts.
We like you to see for yourself why everyone is talking about us. We don't do the talking our pupils do.
Preparation is Key to Passing Your Test
You wouldn't attend a job interview without doing your groundwork on speech and presentation would you? then why appear for the driving test without the pretest preparation?
Pretest works the same for you as your final revision before the exam to memorise and practice the important aspects to give your best.
A Pretest is the most essential step before you appear for the final driving test to polish your skills and practice the techniques on road with one of our instructors.
What Happens with your Instructor on the Pretest
You need to inform your instructor of your driving test date and/or to the sponsor who is going to train you on the pretest training also.
It is advisable to start your pretest after you complete the 12 EDT lessons with our driving instructor.
This gives more time to test yourself and an enhanced evaluation from our instructor which will solve your shortcomings in a limited time and to work on the areas which need more practice.
Tips to follow on your day of Driving Test
You must be looking for some short tricks to make it to the test in one go but you must know that practice is the only key to crack it in your first attempt. Still there are many things you can keep in mind to perform better.
You should be confident about your driving skills as you have passed all the 12 EDT lessons and if you have also attended the pretest session then you will be relaxed during the test.
Do not think of skipping the pretest session as it might cost you a lot later. Pretest is very essential to polish your skills and to improve the weak points if any.
Do not forget to revise the important road and traffic signs and to abide by them when you are driving during the test. Make sure to follow all the signs that will come in your way.
Study the rules provided by the RSA as you will be asked some theory questions also.
Get all your documents prepared a few days before the test.
Come to the centre early to avoid any kind of delay in the process.
Always remember the 2 second rule to maintain the distance between the two cars.
Be careful near the roundabouts.
Even if you think you have committed a mistake, do not dwell over it rather continue to drive with confidence as the mistake may not be too big as it may seem to you.
If you are joining our program of pretest then you don't need to worry about all these points as you will be provided with all these details and more and we will prepare you to face all the difficulties during the test and also how to handle it.
You must practice well before the driving test with our pretest driving lessons to get the detailed information of what you will be facing on the day of the real driving test. We will prepare for you all the challenges so that nothing would seem difficult to you during that day of your full driving test.
With our pretest, you will become familiar with the driving test routes, the difficulties that you might face will be sorted in this sessions. With absolute practice, it will give you confidence to give your best and as you would have already gone through all those challenges, so it won't seem difficult to you on the day of your driving test.
What will you get in a Pretest?
Real time experience of the ground course.
Testing of your skills to find all the shortcomings and mistakes that you can make.
Practice lessons to revise the driving around the corners and traffic.
Practice through difficult routes and examining your speed and skills with it to improve.
Road and traffic signals to be followed and revised.
Giving you tips to perform better to guarantee a pass.
Before your first driving lessons you must have the following in order
So your all geared up for your fist driving lesson with your National driving instructor!
To help get you on the road to passing your test and becoming a safe driver for life, we need to make sure you have everything in order. Find out below!
1. Learner Permit
A learner permit allows you to learn to drive on public roads with your driving instructor.
2. Tax & Insurance
If you want to learn to drive within your own vehicle you will need to make sure your tax & insurance is valid.
3. Good Attitude
We love our learners and strive to give them the best learning experience there is.
What people say
Our Happy Pupils
We take great pride in our customer reviews across all platforms! Please take the time to read some if you are seriously considering been thought to drive!
Why Choose Us
We are not just your normal run of the mill driving school. We are a driving school of excellence. We ensure our pupils get the best value for money for the best driving instruction in the business. This is how:
Experience
Our level of experience in the driving school industry spans over 30 years. We have come to see it all.
Instructors
You can be sure our fully qulaified driving instructors are some of the best trained driving instructors in Ireland.
Quality
Been approved training instructors with the RSA you can be sure your driving lessons are safe guarded.
Support
We provide free WhatsApp, Text and Calls support during the entire process of learning how to drive.
How to reverse around the corner
How to check under the bonnet
Frequently Asked Questions
You can find our most popular frequently asked questions around driving lessons below