Need Car Hire for Driving Test Dublin? If you're planning on taking your driving test in Dublin and need a car to use for the test, choosing one of our driving school cars is a convenient and stress-free option.
Our cars can provide peace of mind, familiarity, and convenience, and can help to ensure that you're driving a car that's well-maintained and up-to-date with all the necessary safety features.
Just make sure to plan ahead and follow our steps to ensure a successful car rental and pass your driving test!
Driving Test Car Hire Dublin
Why is it important to hire a car for driving test Dublin? Which is the best place to hire a car? What standards have to be maintained for a car for driving test?
If you also have such questions in your mind then don't worry, by the end of the article, you will have answers to all these questions.
If you don't want to get into any kind of trouble then you should prefer taking a vehicle from a driving centre in Dublin instead of taking your own car for the test.
For the driving test, the pupil who is going to give the test in Dublin has to take his own car and the car has to be maintained as per the standards given by the RSA.
The standards required for a car on the day of driving test are:
Fully insured vehicle
Updated NCT
Updated Tax Disc
Updated Tax Disc
Maintained engine
Functional seatbelts
All the parts of car must be functional
Due to lack of any of the above criteria, your car might get rejected and your driving test will be cancelled then.
If you are willing to hire the car in Dublin for your driving test then make the right choice by choosing National Driving School as your driving partner because we have all our cars maintained with the standards of RSA.
Benefits of hiring car from NDS Dublin
By hiring a car from National Driving School in Dublin, you are entitled to several benefits that come with an NDS car.
Insured car with required documents
Full NCT wherever required
Dual control car – Manual and Automatic
Highly maintained
Spick and span car in and out
Easy to drive
Who can hire a car from our training centre in Dublin?
Anyone who is going to give the driving test in Dublin can hire a car from our training centre.
All you need to have is a learner's permit to hire the car in case you do not have a car for the test or your car is not insured and not up to the standards of the RSA.
Even if you were not able to arrange a car for yourself till the last minute or you forgot about hiring the car from a driving school due to lack of your documentation then do not panic at all as our training centre in Dublin is ready to help you at all times.
Our procedures to hire a car are very simplified to keep you at ease and speedy process to facilitate your convenience.
Best car hire package in Dublin
If you are facing any trouble with your car regarding insurance or maintenance then our driving learning centre in Dublin is always available to help you out.
You just need to get your learner's permit and hire your car instantly for your driving test.
Our pupils take their driving lessons from our cars and get comfortable with it. They find it easy to drive with our neatly maintained cars and become adept in their skills.
So, it would be preferable that they hire our car for the driving test in Dublin too because it will increase your chances of passing the driving test.
Also, our highest passing rate in Dublin is what makes us best and this success has come with years of experience.
We keep inculcating our observations in our driving lessons programme and other tests to come up with the best driving lessons in Dublin as we are passionate to make our pupils pass the driving test in their first attempt.
We ensure your success in the driving test after you choose NDS to be your driving learning partner and provide you with the best-maintained cars for your driving test.
Car Hire Test Centres
---
Driving Test Car Hire Dublin FAQ
Have some questions you may need answering before your hire a driving school car in Dublin? Here are the top questions and answers we regulary get:
Still looking for a reliable Driving School?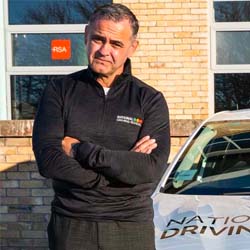 Here at National Driving School we are positioned to take you and your driving needs to the next level.
We have elevated ourselves to become a household name and the leading provider of driving lessons in Dublin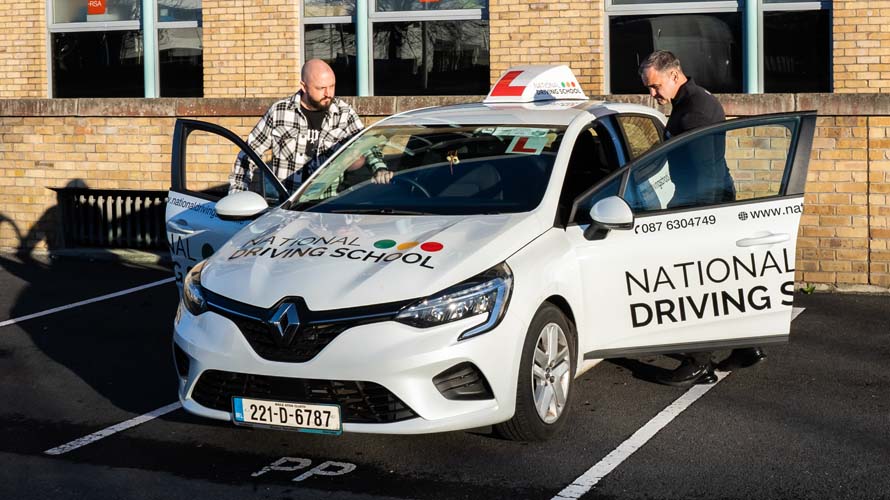 Why Choose National?
Arrive on time, Everytime
Pick-up & Drop-offs
Clean & Modern Cars
Flexible Booking Times
Fully Qualified Instructors
Find out more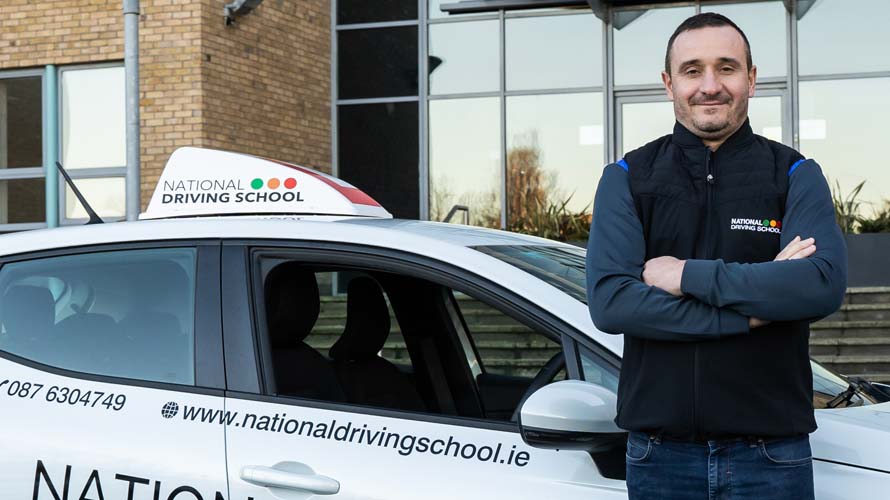 Need Help?
If you need any help choosing lessons or general questions you can get in touch.
30 Years Experiance
Male & Female Instructors
Contact Us