Having a certain amount of nerves before you go in for your first driving lesson is understandable and obvious, but this doesn't mean that you don't get to control this feeling.
While having some amount of nervous energy on the day of your first driving lesson, sometimes this energy can get directed in the wrong way, causing anxiousness, restlessness and overall uneasiness. One way to curb these feelings is by being a hundred percent prepared for the big day.
By being well prepared, you can ensure that things that may go wrong from your end are under control and you seem more at peace, which will benefit your ability to absorb new information and act on them. Most driving schools like National Driving School are very well familiar with teaching new driving students as they know where their worries and concerns stem from.
The driving instructors at National Driving School are very good at keeping the feelings of the students in mind and are extremely patient with them, making sure their nerves are at the minimum. This way the students can concentrate on learning more than worrying about the actual process.
What will I need to bring with me for my first driving lesson?
You provisional driving license
But first, let's answer this important question – what is a provisional driving license? This is a license which allows beginners to get behind the wheel and practice their driving under the supervision of an adult professional driving instructor.
Once you have your provisional driving license, you can enroll with any driving school and get driving lessons. When you have learned how to drive, you will be able to trade your provisional driving license with a proper driving license (after you give your driving test, obviously).
Your wallet with Identity proof and some other documents
Apart from your provisional license, you will be required to present any type of proof of identity and also some passport size photographs for the record of the driving school. These are the basic documents any driving school asks for, but they may even ask for more, so check with your driving school one day before you get there.
A pair of comfortable shoes
Footwork is a huge part of driving a car. You will be required to switch between the clutch, brake, and accelerator quite often, so it isn't a wise decision to just show up in a pair of flip-flops. We would suggest that you wear comfortable non-slip shoes which are snug on your feet and have a good grip. Good shoes on your feet will keep you comfortable and they definitely make the driving process a whole lot simpler.
A pair of glasses (if you use them)
You may not wear all the time in your day to day life, but if you feel the need to wear glasses while you are spending time in from of the computer or while reading a book, then it means that you will most probably need to wear your glasses while driving.
What should I expect from my first driving lesson?
Nerves are a part of it! Whenever you are starting something new, the unknown can be a little unsettling. This is human nature, and nerves are the one way anxiety and stress can present themselves. Nervous energy can be handled easily with a few deep breaths and a whole lot of confidence! After all, this is your first time driving, your nerves are justified. All you need to do is reel it all in and give it your best shot.
You will be asked to present your provisional driving license
This license gives you permission to attend driving lessons and drive with an adult driver in attendance. Before you head to your driving lesson, do not forget to keep the license in your pocket because you will be asked to present it without a doubt. If you fail to show your provisional license, you will not be allowed to attend the driving lesson. So please be sure you have it on you at the time of your lesson.
You will be in the driver seat
No more sitting in the passenger seat for you! You will be asked to sit in the driver's seat and drive as your instructor asks you to. If you want to be a good student, it is a good idea to put your nerves on hold and dive in head first. Follow instructions to the T and you will realize that driving is not that difficult. All it takes is a little practice.
You will have to memorize the cockpit drill
The cockpit drill is something that every driver must do before they start driving. In no time, you will have this memorized, and that's the best way to start with driving a car.
The cockpit drill involves these steps –
Check if all the doors are closed
Make sure you are comfortable in the driver seat
Make sure that the steering wheel is at a comfortable level and position
Make sure you and everyone else in the car have their seatbelts on.
You will have to stop multiple times
Pulling over will be very common as it is the way your teacher will make sure you don't learn off bad habits. It is one way of nipping bad habits in the bid, and you will be thankful for this in the future.
Making mistakes is how you learn new things. So don't be afraid to make these mistakes. Also, you can be sure that you will be safe since you will have a driving instructor with you at all times.
You will look forward to the next lesson!
Once you get over the initial nerves, you will start to enjoy learning how to drive!
Still looking for a reliable Driving School?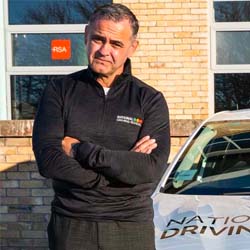 Here at National Driving School we are positioned to take you and your driving needs to the next level.
We have elevated ourselves to become a household name and the leading provider of driving lessons in Dublin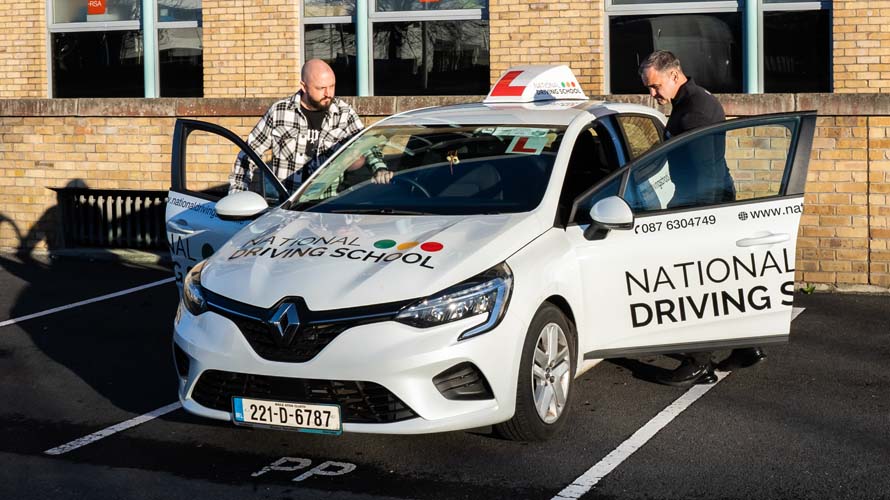 Why Choose National?
Arrive on time, Everytime
Pick-up & Drop-offs
Clean & Modern Cars
Flexible Booking Times
Fully Qualified Instructors
Find out more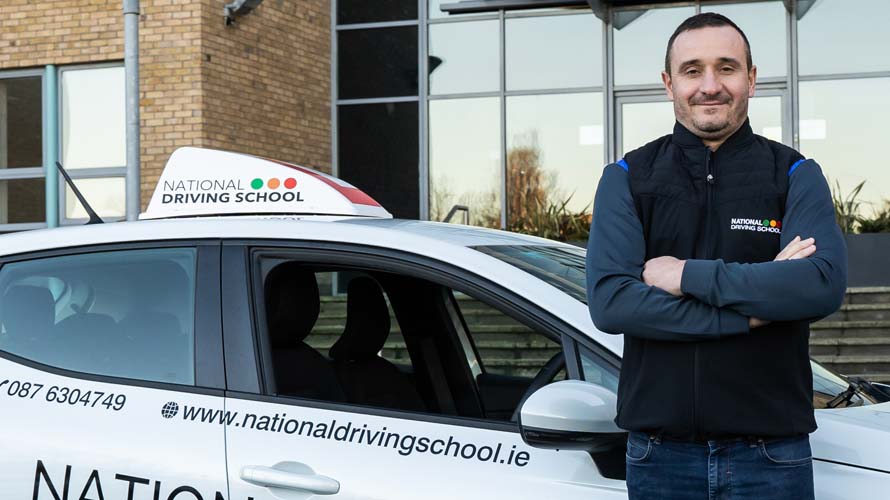 Need Help?
If you need any help choosing lessons or general questions you can get in touch.
30 Years Experiance
Male & Female Instructors
Contact Us