These days, driving is one such skill which holds a lot of importance and value as being able to drive gives you a new level of independence where you don't have to depend on other people or on any system of public transport to travel from one place to another.
More and more people want to learn how to drive for this very reason. And one of the most common and sought after way to start their driving journey is by enrolling with some driving school to get driving lessons.
Most driving schools teach the practical part of driving along with the theoretical part as well. While some people think learning from a family member or a friend who knows how to drive is enough to take the wheel and drive on your own, unfortunately, that isn't the case. Driving can be fatal if certain important yet basic rules aren't covered thoroughly.
If you learn from a professional driving instructor at a driving school, you can rest assured that no important rule or detail has been left out. In Dublin, people rely on and trust National Driving School a lot because of their great reviews and testimonials left behind by ex-students.
Parents look forward to enrolling their teenage kids so that they can responsibly drive and be safe and take of themselves and others in the vehicle. 
National Driving School has a great approach to driving lessons, where equal importance is given to the practical aspect of driving as well as the theoretical part too. Both of these go hand in hand and this dual-pronged approach tackles all the challenges of driving in a very effective manner.
Why should I take driving lessons?
1. Personalized one on one interaction with a professional
Having a professional analyze and judge your driving skills in the passenger seat sure does help a lot as they can objectively critique your techniques without the interference of any biases and external factors.
2. Real-time experience on the road
Along with the traditional classroom setup where you earn about traffic,  signs, rules, and regulations, you also get to drive the car on a street, and this combination of lessons sure does go a long way to make an impact.
3. Attention to detail
The biggest advantage of learning how to drive from a driving instructor is that you get to learn through someone who has had to be trained to be able to teach themselves. This qualification gives a lot of students the peace and mind and confidence they need to perform well and lose any inhibitions and fears. Also, you can be sure of the fact that all the major and minor ppointers of driving are covered over the duration of the course.
4. You can be safe with an experienced driver in the passenger seat
A driving instructor must be alert and make sure they can jump in and control a situation which may go out of hand if not paid attention to. Safety is a great aspect which should not be ignored at any cost.
5. More probability of passing the driver's license test
Driving lessons are designed in a way to make sure people who want to take the driving test can pass it. They aim at covering all the important facts and pointers which will equip the person taking the test to be well prepared and ultimately ace the test and get their driver's license.
How many driving lessons should I take before I give my driver's license test?
Before we answer this question we must keep in mind and never forget the fact that different people have different speeds of learning, so there is no actual measure of how many lessons are required to master the art of driving and gong ahead with giving your driver's license test.
But with that being said, most driving instructors believe that a new student will ideally require about 45 to 50 hours of training with a professional driving instructor before they go ahead and give their driver's license test.
Completing these many hours will increase the student's chance of passing the test with flying colors and receiving their driver's license. These hours loosely translate to about 30 to 35 driving lessons (depending in how long your driving lessons are – most commonly the lessons are about one and a half to two hours long)
With that number in mind now, you must remember that there is no hard rule for this, but these numbers are based on an average of time taken by students to learn how to drive and pass their driving test.
After your driving lesson, it definitely helps to practice on your own in your personal time and space. Practice makes perfect, and the rule isn't any different for driving a car. The more you practice, the higher are your chances to pass the test and get your driver's license in the first attempt itself!
Still looking for a reliable Driving School?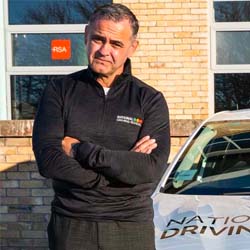 Here at National Driving School we are positioned to take you and your driving needs to the next level.
We have elevated ourselves to become a household name and the leading provider of driving lessons in Dublin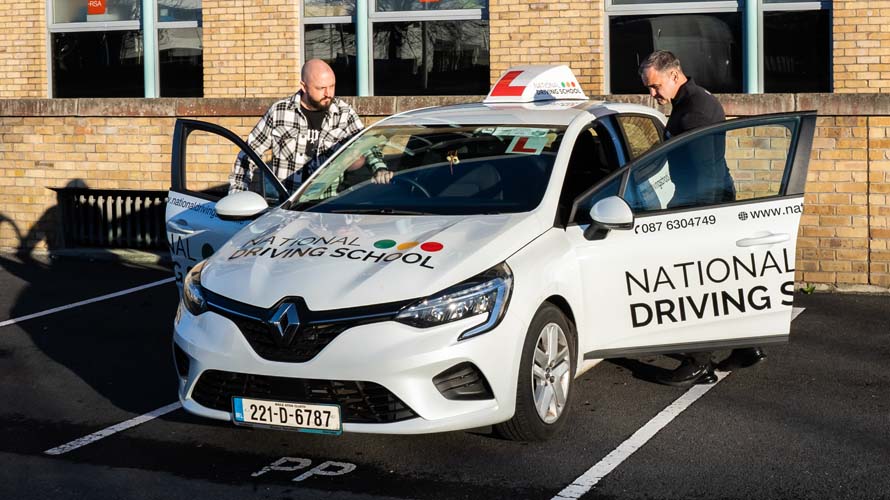 Why Choose National?
Arrive on time, Everytime
Pick-up & Drop-offs
Clean & Modern Cars
Flexible Booking Times
Fully Qualified Instructors
Find out more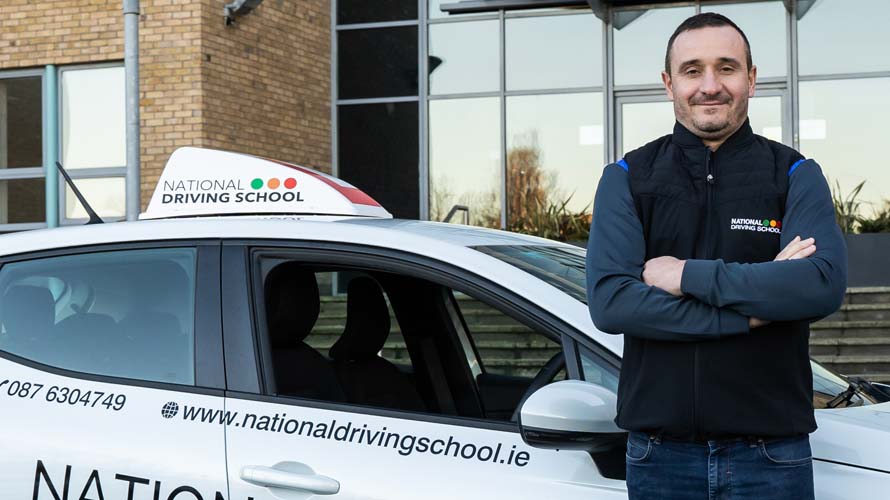 Need Help?
If you need any help choosing lessons or general questions you can get in touch.
30 Years Experiance
Male & Female Instructors
Contact Us