Back trouble is very common today and is now affecting 40% of drivers. According to the (BCA) British Chiropractic Association 40% of people say that sitting down aggravates back and or neck pain.That's not good news if you are a driver of any type of vehicle.
We see people everyday over stretching their legs at the pedals, overstretching their arms at the steering wheel, rear view mirror set too high so their neck is constantly straining. Others sitting far too close to the pedals and steering wheel, barely able to feed the steering wheel and therefore causing a dangerous understeer element.
Symptoms of sitting in the wrong position can be,
Lower back pain.
Neck stiffness and strain.
Shoulder tightness.
Elbow stiffness.
Knee stiffness.
Calf cramps
So what can drivers do to ensure optimum seating position at the wheel?
Preparation is key.You wouldn't prepare dinner without the proper ingredients. It's very important to finely tune you driving position according to your height,body type,body shape and size.Comfort is achieved with the correct weight distribution and support for your body in relation to the seat type you have .
Experts from all around the world along with our best teaching practices say that drivers should have their seat pulled forward enough so as to fully extend the clutch pedal while maintaining a slightly bent knee position.(see diagram)
The upright of the seat would need to be slightly tilted back and when turning the steering wheel that your shoulders remain in contact with the seat and not stretching forward with straight elbows.The centre of the headrest must sit higher than a drivers ears.If it's any lower it can act as a type of fulcrum in an accident and worsen the effects of whiplash .
How to adjust the seat correctly.
Try and rest your bottom as near as possible to the backrest.Then the distance from the seat to the pedals is done by way of unlocking the seat pull lever until you move forward far enough until you have a slight knee bend while depressing the clutch.
Rest your shoulders as close to the back of the seat as is necessary allowing you to hold the steering wheel with slightly bent elbows.
Set the height of the seat to ensure you have a perfect view and not obstructed and clearly able to see out of the full windscreen.
Adjust the headrest so as the centre of the headrest is in line with the middle of your ears.
Adjust all mirrors to ensure full view through the rear view windscreen.
Seat belt on and away you go.
Safe and comfortable from all of us at National driving school. 
Still looking for a reliable Driving School?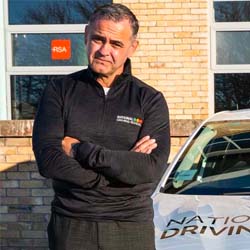 Here at National Driving School we are positioned to take you and your driving needs to the next level.
We have elevated ourselves to become a household name and the leading provider of driving lessons in Dublin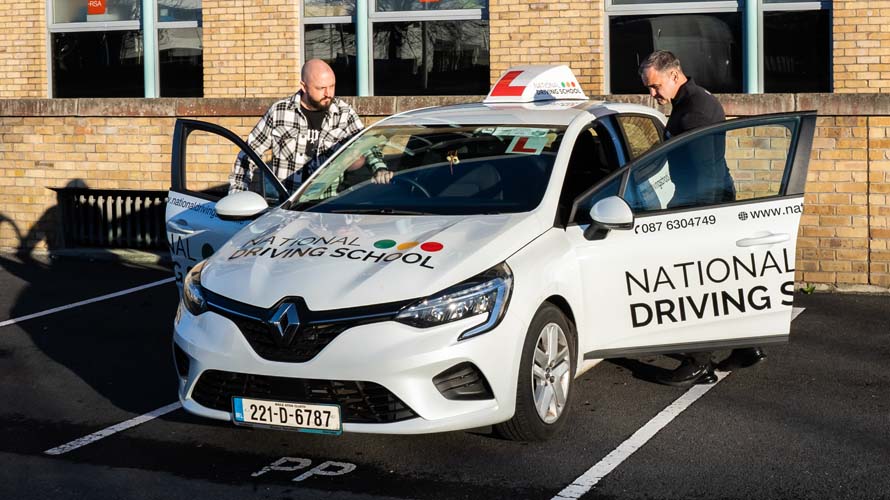 Why Choose National?
Arrive on time, Everytime
Pick-up & Drop-offs
Clean & Modern Cars
Flexible Booking Times
Fully Qualified Instructors
Find out more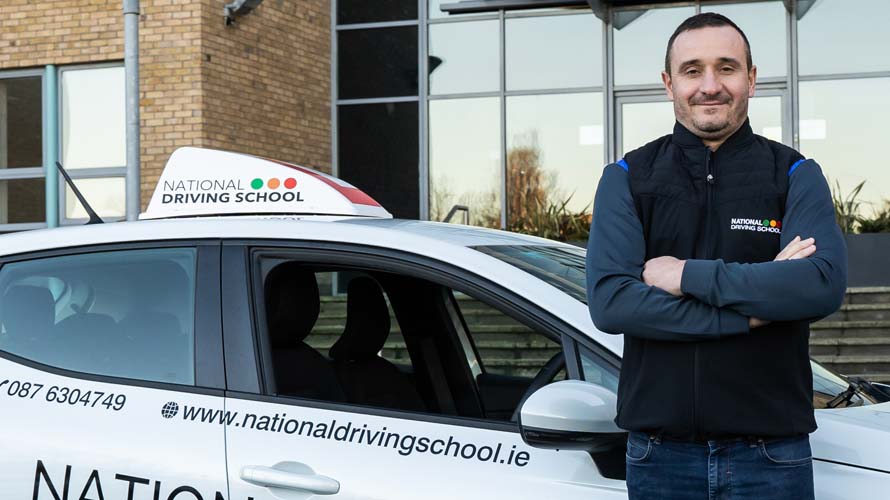 Need Help?
If you need any help choosing lessons or general questions you can get in touch.
30 Years Experiance
Male & Female Instructors
Contact Us