Naas Driving Test Centre is not such a difficult Test centre to pass in at all. However the Test Centre pass rate itself is quite low, that is not our driving schools pass rate.
The Osprey Hotel which is the Location of the Naas driving test centre has ample parking and ease of entry and exit to the test routes are not bad either.
In Naas, many pupils join National Driving School for the preparation of their driving test and find it more helpful than the other training schools.
Initially, the pupils contact many driving schools in Naas but in the end, choose to get trained.
We conducted an analysis of the number of driving tests that are held in the Driving test centre of Naas and then comparing it with the number of pupils that joined our centre for their driving training.
We are happy to share our results that most of the pupils, even sometimes more than 72 % of pupils have been trained through our schools.
And this engagement with our centre has come from various platforms like through our websites and social media platforms.
The 4 Parts to the Driving Test
You must also understand in full the information and marking system contained within the testers marking sheet which is on their tablet.
Theory questions & Road signs.
Under the bonnet checks.
Secondary controls.
The drive itself.
Understanding the sections and the difference between grade 1,2 and 3 marks is crucial to you understanding how the tester views your driving whilst out on test. See the marking sheet below:
The testers marking sheet has 18 sections. Knowing all of them and what they mean is a huge step towards passing your test. They are the following:
Rules/Checks
Position
Observation
Reaction
Mirrors
Clearance
Signals
Motorcycle
Courtesy
Alighting
Progress
Vehicle Control
Speed
Traffic Control
Right of way
Reverse
Turnabout
Parking
Why do Edt pupils fail the test in Naas?
There are a number of issues with the mentality and thinking for pupils who have sat their EDT lessons and think they will easily pass the driving test soon after.
There is so much more practice and road experience needed than 12, 15, or even 20 hours of training.
We see it everyday through no fault of their own where some pupils just cannot get to the next level because they don't have a car to practice on, Cant get insured, Cant afford any more lessons, Sponsor is afraid to take them to the correct location for training, Covid restrictions and 5km rule, etc.
They then present for the test hoping they can squeeze the test. Doest work and it will be the same result time after time and another application of 85 Euro.
For the driving test training, pupils apply for the driving test preparation in many different schools but end up being trained properly by the National Driving School because of our excellent training programme & pass rate.
What type of lessons do i need? Mocktest, Pretest or Assessment
Firstly before any Driving test you need to be sure what exactly is it you need in terms of the correct lesson type for your needs.
Mocktest
This is where we do a full run through of the actual driving test and mark the sheet as the tester will mark and then give you feedback where you went wrong.
This is fine if you have practiced correctly previously and understand what's involved.
The Mocktest should be a final play after you have had a number of working lessons or remedial lessons to fix the areas of poor driving spotted whilst on the lessons themselves.
Pretest
This is on the day of your test you take the pretest to brushup on your skills, do some manoeuvres, and back to the test center ready and waiting for the test.
Assessment (2 weeks before the test)
This gives us time to look and fix your bad habits and bad ways and even time for you to reschedule your test if needed.
The pressure is off and we can explain to you the areas the tester will find most faults so you can then go about fixing them.
This is the best option to start with and then progress on from there.
How long will my test appointment take in Naas?
Sometimes it takes longer than usual to process your application. The test date comes in 5 weeks prior to the test generally so that you can prepare well but it might get late due to various reasons like weather disruption or any other delay in the whole process.
If you have applied for the driving test after getting the learner's permit, then you should wait for at least 6 months to get your driving test date. Even if the date has got delayed, there is nothing to worry as the RSA will schedule your driving test when your turn comes.
Naas Driving Centre with trained Instructors
We are the choice of most of the pupils as we understand their problems, the questions that they have in their minds and the confusion they are going through.
We guide them in all their steps and even give them useful tips for their preparation of driving tests.
Our instructors know all the important junctions, roundabouts and merging points and other routes and will take you to those roads to practice so that you may know the exact challenges that you are going to face during the test.
Sometimes pupils work on their skills properly and practice in all their time available but still fail to make it in the first attempt due to lack of awareness.
National Driving School makes all these necessary points clear to the pupils to help them to the maximum extent.
We provide pupils with a complete guide by making them aware of the common mistakes that others make so that they do not repeat them.
We believe in the comprehensive growth of pupils with all the required skills so that the pupils are not troubled in any way on the day of the driving test.
We want our pupils to understand all the parameters on which they are going to be tested and prepare accordingly.
Also, it is essential that you carry out your practice with our instructors on all the important routes of Naas to get prepared for the final test.
A Guide for your Naas Test routes
We have specially designed pretests for the pupils that they must take before the driving test to evaluate their skills. Before appearing for the real test, it is important to know what are your weaknesses and strengths otherwise the pupil might get panicked.
This test will make you aware of the true skills that you have that will give you a complete insight into the areas that you need to focus on and practice more to polish them.
This will help you to have the real-time experience of the driving test on the real driving course which is generally used by the testers to test the pupils.
When you know the difficulties prior to what you are going to come across in the test, it becomes easier to handle and chances of passing the test increase at the same time.
We provide a list of the parameters on which the tester tests the pupils, guide them about the preparations just before the driving test, the documentation required for it and other useful tips.
Our driving lessons Naas is always updated to the guidelines given by RSA so that our pupils do not miss any important detail and inculcate the same in our lessons and other test programmes.
---
Driving Lessons Naas FAQ
When selecting a driving school in Naas, you should check for proven passes as well as success rates. Analyse reviews, different social media posts, as well as ask friends. Here are some FAQs:
Still looking for a reliable Driving School?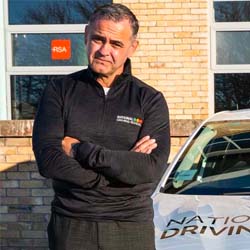 Here at National Driving School we are positioned to take you and your driving needs to the next level.
We have elevated ourselves to become a household name and the leading provider of driving lessons in Dublin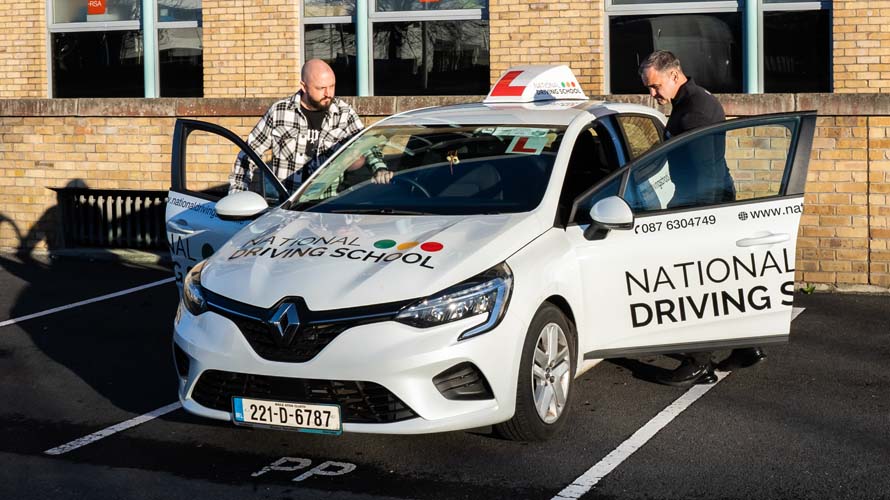 Why Choose National?
Arrive on time, Everytime
Pick-up & Drop-offs
Clean & Modern Cars
Flexible Booking Times
Fully Qualified Instructors
Find out more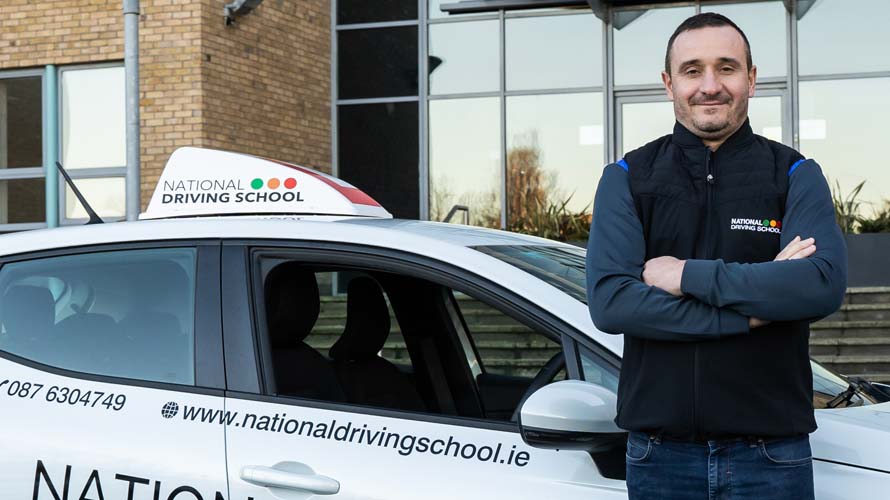 Need Help?
If you need any help choosing lessons or general questions you can get in touch.
30 Years Experiance
Male & Female Instructors
Contact Us