Driving lessons Rochfortbridge are essential to helping learners transition from novice to veteran. In Rochfordbridge, we offer driving school services to people who are interested in passing their driving test on their first attempt.
If you live in Rochfordbridge and its environs and you are looking to take driving lessons in anticipation of a driving test, then we are here to help you.
We have come to the understanding of how tough it is for first-timers to pass their driving test convincingly.
Based on this challenge, we have designed a system that has worked over the years.
Evidence of this is seen in our pass rates and reviews on our social media pages.
This makes us one of the best options for you as you go on your driving lessons in Rochfordbridge.
Our team of patient and experienced driving school instructors will make the learning process as easy as it can be for you.
Driving Lessons Rochfordbridge
There are so many reasons why you should take your driving lessons with us. For instance, we have the best local driving instructors available in Rochfordbridge.
These are professionals who are not only working for the paycheck but derive job satisfaction from seeing you get perfect results from the driving lesson syllabus.
Also, our driving school lesson curriculum is quite flexible. We understand the variation in the circumstances and conditions of every learner.
So, we are always trying to make sure we have something for everybody.
It doesn't matter if you are a mother who will likely be distracted by the kids, a busy businessman who might miss lessons sometimes, or a student who is busy with school.
We always make an effort to work out the individual circumstances of learners who take driving lessons with us.
You can always check for our records available online.
There, you will find our success stories which will reassure you that you are in good hands.
Join us today and begin your journey to becoming an expert and licensed driver.
Essential Driver Training Driving Lessons Rochfordbridge
You can always take your EDT lesosns with us at the National Driving School Rochfordbridge.
EDT is the acronym for Essential Driver Training. It is a compulsory course introduced by the regulatory body for road safety in Ireland on the 4th of April 2011.
Since its full implementation, records demonstrate a significant improvement in the quality of driving on Irish roads.
At the national driving school Rochfordbridge, we recognise that the EDT lessons help learners boost their confidence behind the wheel.
First-time drivers have confirmed that they benefit massively from this arrangement, always coming out with a boost in confidence after taking the EDT lessons.
The EDT driving lessons in Rochfordbridge are always an interesting experience with our dedicated team of instructors.
The combination of patience, experience, and a genuine desire to see learners get better makes all the difference in the experience of learners who take EDT driving lessons at Rochfordbridge.
Pretest Driving Lessons Rochfordbridge
At National Driving School Rochfordbridge, we have identified that first-time learners are always nervous as they take their driving tests.
To address this, we offer pretest driving lessons in Rochfordbridge.
We have created an imaginary test environment whereby you will have access to driving test conditions and materials.
From our experience, this goes a long way to help learners gather confidence and identify areas where they need to improve before the real test.
You can benefit from this arrangement as you prepare to take your driving test.
Car Hire for Driving Test for Rochfordbridge candidates
One major challenge almost every learner encounters as they anticipate the driving test is the availability of a decent car for their driving test.
To address this, we have made provision for vehicles and we have a fleet of exceptional l vehicles from which you can choose for your driving test in Rochfordbridge.
You don't have to come to the driving test with a faulty vehicle when you know it could affect your performance.
If you have a faulty vehicle don't risk coming with it for a driving test as it can increase the chances of a driving test failure.
Rather, take advantage of the car hire services provided by our driving school on the day of your driving test.
Automatic Driving Lessons Rochfordbridge
At National Driving School Rochfordbridge, we offer specialised automatic driving lessons to learners.
We realise that there is a widespread preference for vehicles running on automatic gears because of the relative ease it affords drivers.
Therefore, we have made provisions for automatic driving lessons.
Practicing for your driving tests with automatic driving lessons with us in Rochfordbridge boosts your chances of passing the test with ease.
Mock Test Driving Lessons Rochfordbridge
Learners taking the driving test for the first time are often nervous and this impacts their performance negatively in many instances.
To address this, the national driving school Rochfordbridge offers mock test driving lessons.
The mock tests are always a great preparatory tool for learners who are on the verge of taking driving tests.
Learners understand the effect this has on their driving test experience. Therefore, it is one of our most crucial services.
You can also take the mock tests to boost your preparation for the driving test.
That way, you get to know your strengths and weaknesses and make the necessary adjustments needed to have a successful driving test.
Passing the Driving Test Rocfordbridge with Ease
We run one of the most reputable driving schools in Rochfordbridge.
After 32 years we know exactly what the tester wants to see and our relationship with the RSA is positive as they know the standards we set in offering driving school services.
Our driving school popularity within and outside of Rochfordbridge attests to this.
We offer an effective curriculum of learning activities that help learners prepare for their driving tests with ease.
With the help of ex-testers on our team of driving instructors, we give them an insider's view and help learners see what the tester wants them to do during the driving test.
This method of preparation ensures our learners go to the driving test examiner with the confidence that they are going to ace the test.
---
Driving Lessons Rochfortbridge FAQ
When selecting a driving school in Rochfortbridge, you should check for proven passes as well as success rates. Analyse reviews, different social media posts, as well as ask friends. Here are some FAQs:
Still looking for a reliable Driving School?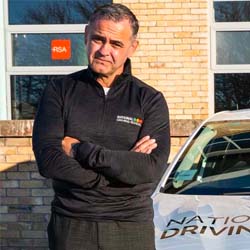 Here at National Driving School we are positioned to take you and your driving needs to the next level.
We have elevated ourselves to become a household name and the leading provider of driving lessons in Dublin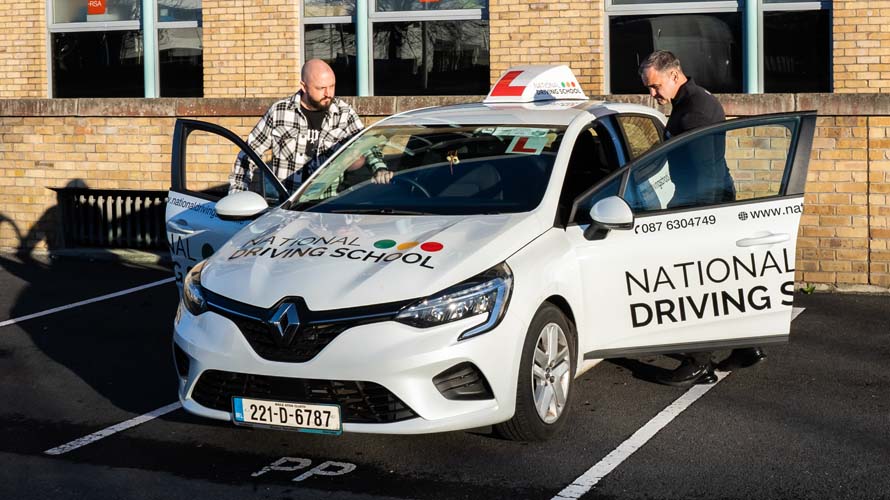 Why Choose National?
Arrive on time, Everytime
Pick-up & Drop-offs
Clean & Modern Cars
Flexible Booking Times
Fully Qualified Instructors
Find out more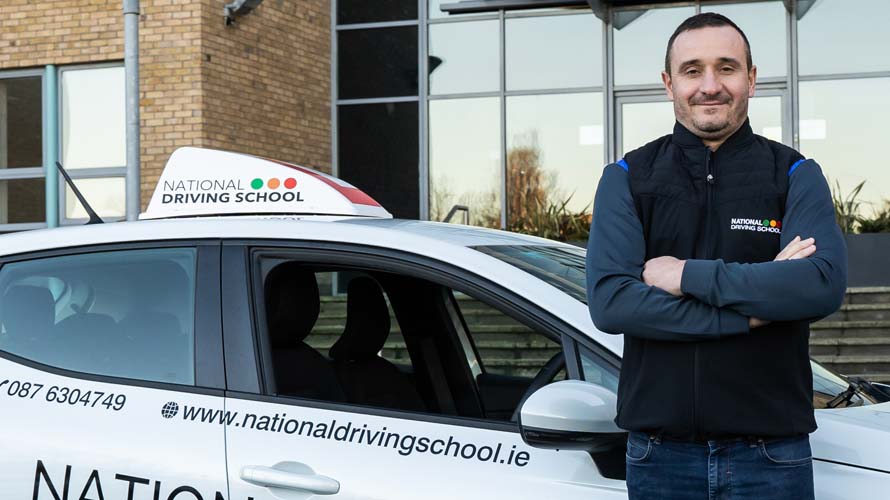 Need Help?
If you need any help choosing lessons or general questions you can get in touch.
30 Years Experiance
Male & Female Instructors
Contact Us