Getting Driving Lessons Offaly couldn't be easier! Every licensed driver in Ireland goes through Driving lessons before they are considered fit to drive on Irish roads. On recognising this need, we have set up a well-structured driving lesson service in Offaly.
Our driving lessons in Offaly afford Offaly residents access to professional resources that are equipped for new pupils and Pupils needing to sit the driving test.
At the National Driving School Offaly, we have put up a simplified process for learners who desire to study for their driving test and ace the test on their first attempt.
This makes us the best fit for you to get your license first time.
We have a team of Offaly driving school instructors who have accumulated enough experience over the years to deal with learners from various backgrounds and help them achieve the goal of getting on the road safely.
At the National Driving School Offaly we prioritise expertise, confidence, and a sound teaching of driving principles.
Our pass rate bears witness to the success of the structure we have built over the years.
Driving lessons Offaly
Here at the National Driving School Offaly, we offer the best driving lesson services obtainable within Offaly and its environs.
This includes a comfortable learning environment, functional vehicles for practice, a lesson curriculum carefully designed to help learners attain success, and instructors who are genuinely interested in ensuring all learners pass their driving tests on their first trial.
EDT driving lessons Offaly
The Essential Driver Training (EDT) program is a compulsory program designed to help learners get familiar with all the materials needed to help them become responsible and informed drivers by the time they are done with the driving school process.
Since the 4th of April 2011 when it was introduced, it has made a great difference in the quality of drivers being licensed in Ireland.
Hence, we are big on essential driver training lessons.
Our instructors have mastered the materials over the years and they have identified areas learners often struggle with.
Hence, they are prepared to do a good job in the overall training, and at the same time, they are prepared to give more than usual attention to these areas.
This comes off the genuine interest they have in seeing you go from being a learner to a pro driver, and this makes a huge difference between us and other EDT learning centres in Offaly.
Pretest driving lessons in Offaly
First-time learners taking driving tests often deal with anxiety due to limited experience.
At National Driving School Offaly, we deal with this challenge by offering the best pretest driving lessons Offaly has to offer.
Here, we create an ideal test environment for learners to understand how the testers mind works therefore beating the tester to the mark.
The highlight of this arrangement is that it helps learners take the tests without actually feeling the pressure they would likely experience as new learners.
Also, they get to see areas of their strengths and weaknesses and deal with them before they go for the real test.
If you need to take pretest-diving lessons in Offaly, we have all the facilities you need to get it done and make the most of it.
Our driving instructors have many years of experience.
Hence, they know what the examiners are looking out for on your test day and are willing to give this information to you .
Car Hire for Driving Test for our Offaly candidates
At National Driving School Offaly, we offer car hire for driving tests, this is because we recognise that learners sometimes have issues getting a vehicle for their driving test.
For instance, learners only have access to a faulty vehicle. As you can tell, this could be detrimental to their test result.
If you need a vehicle for your driving test, we have got you covered with an array of vehicles that are in perfect condition for your driving test.
With this provision, you can concentrate on doing your driving test even if you do not own a vehicle.
Automatic Driving Lessons Offaly
At the national driving school Offaly, we offer learners specialised Automatic driving lessons in Offaly and its environs.
We have discovered most people have a preference for automatic driving lessons.
Learners see it as a good place to start their driving lessons because they will not have to deal with the stress of manually transitioning the car gears as it is obtainable in manual-geared lessons.
Consequently, we offer automatic driving lessons to all who are interested in training for their driving tests via an automatic-geared vehicle in Offaly.
Our experienced instructors are always ready to onboard you and take you through the drills in a short time to get ready to ace your driving tests.
Mock Test-Driving Lessons Offaly
Mock driving tests offer learners an opportunity to test their competence level just before the driving test.
At the National Driving School Offaly, we offer First-time learners a lifeline to addressing feelings of nervousness during driving tests by having them take mock tests.
This arrangement assists test candidates, and ultimately helps them identify areas where they need to work on before the real test.
Through the mock test driving lessons, we can boost of our driving test pass rate. You can join us today and be a part of our success story.
Passing the Driving Test Offaly with Ease
Are you looking to pass the driving test in Offaly with ease? Then, we are your best bet for the job.
We have an impressive record over the years that reflects the successes we have been able to attain by putting together a driving school system that works for all parties involved.
Also, our trainers are experienced personnel who understand the driving tests perfectly and know what the testers want from you.
You can be sure they will patiently put learners through the learning curve in the best way possible.
It definitely will be in your best interest to join us soon if you are willing to pass the driving test with ease.
---
Driving Lessons Offaly FAQ
When selecting a driving school in Offaly, you should check for proven passes as well as success rates. Analyse reviews, different social media posts, as well as ask friends. Here are some FAQs:
Still looking for a reliable Driving School?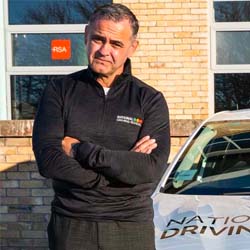 Here at National Driving School we are positioned to take you and your driving needs to the next level.
We have elevated ourselves to become a household name and the leading provider of driving lessons in Dublin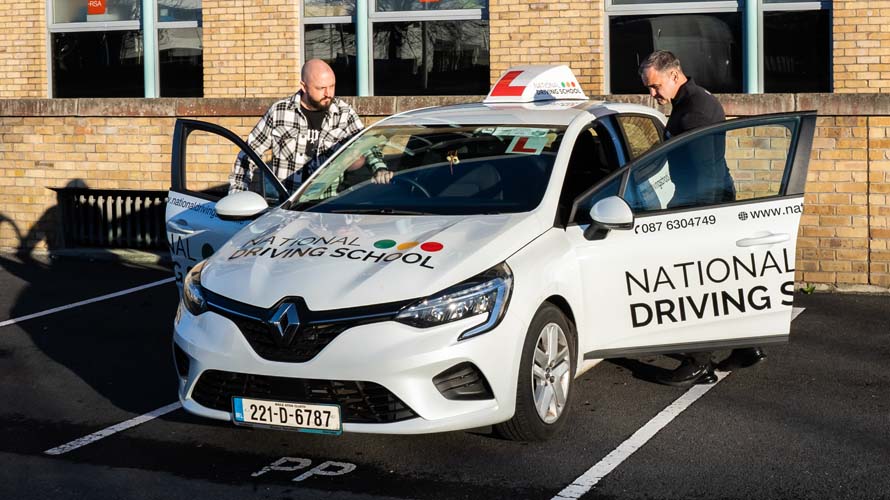 Why Choose National?
Arrive on time, Everytime
Pick-up & Drop-offs
Clean & Modern Cars
Flexible Booking Times
Fully Qualified Instructors
Find out more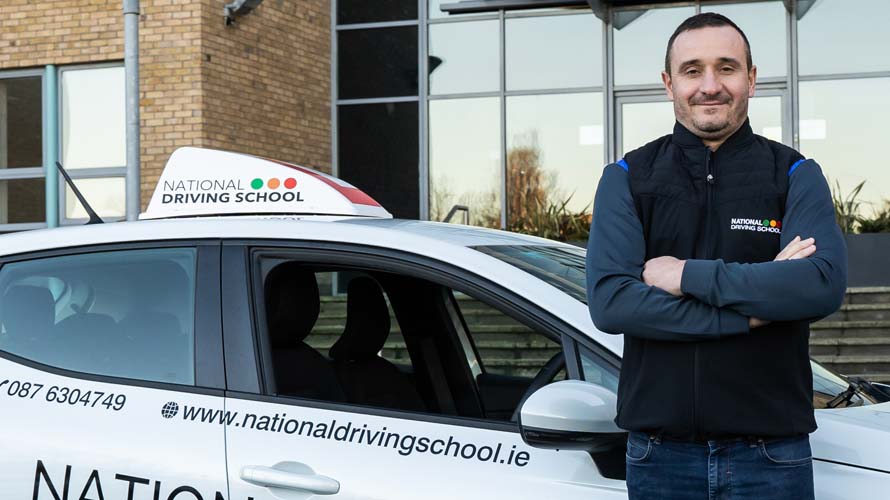 Need Help?
If you need any help choosing lessons or general questions you can get in touch.
30 Years Experiance
Male & Female Instructors
Contact Us