Passing the driving test at Enfield is a big deal for first-time drivers. On realising this, we have found a way to simplify the process for them.
This makes us one of the best options for you to attend a driving school with the highest reputation in Enfield and with one of the highest pass rates as well.
In Enfield, we offer the best driving school services available. We focus the design of our driving school services on people who are interested in passing their driving test on their first attempt.
People in Enfield who desire quality driving lessons that get them fully ready for their driving test can always bank on the team at National Driving School Enfield.
We understand that the confidence to drive solo is a big factor in your quest to pass a driving test in Enfield.
This is why we have designed our driving school services to get you from the novice level to the confident driver you need to passing the test.
We have a team of patient and experienced driving school instructors who are focused on helping you in this regard.
You can subscribe to this provision and be a part of our successful statistics with just one phone call.
Driving Lessons Enfield
You are always welcome to take driving lessons with us at the National Driving School In Enfield.
Our driving instructors are one of the best you will ever find in Ireland and that is obvious from our Google reviews where you will see testimonials from many many satisfied customers.
Beyond the pay, they show genuine interest in assisting learners through their driving lesson journey.
Another pointer to the quality of our driving lessons is seen in our driving school reputation and track record.
Our curriculum is carefully designed to focus on areas where learners find challenging and make the most mistakes.
Also, we have available an impressive online track record of our success stories that reflects a high pass rate.
You definitely will be making a smart choice by joining us.
EDT Driving Lessons Enfield
At the National Driving School Enfield, we offer EDT lessons. EDT is the acronym for Essential Driver Training Program.
The RSA on the 4th of April 2011 made it a compulsory course for learners who want to be licensed to drive in Ireland.
Over the years, we have seen the effectiveness of these lessons.
Therefore, we have found ways to configure it to make it even better for our learners.
Our first-time driver benefits immensely from this arrangement as they always come out a lot more confident after taking the lessons.
Our dedicated team of instructors always looks to make the EDT driving lessons an interesting experience you don't want to miss.
Their patience, experience, and genuine desire to see you get better makes all the difference in our EDT lesson services.
Car Hire for Driving Test for our Enfield candidates
Many learners who want to take their driving tests are often in need of a car to hire.
To address this , we offer car hire services at the National Driving School in Enfield.
We have many vehicles from which you can choose for your driving test in Enfield.
If you have a faulty vehicle, you don't have to risk coming with it for a driving test because it can increase the chances of a driving test failure.
Rather, reach out to us for access to our car hire services so you can concentrate fully on passing the test convincingly.
Automatic Driving Lessons Enfield
At the National Driving School Enfield, we have recognised that people have a preference for vehicles running on automatic gears because of their relative ease of usage.
With an automatic-geared vehicle, you do not have to keep engaging the gears all the time.
This is why we have made provisions for automatic driving lessons in Enfield.
When you prepare for your driving tests with automatic driving lessons with us in Enfield, you get to boosts your chances of passing the test with ease.
It is an option worth considering.
Mock Test Driving Lessons Enfield
We realize how much of a nervous experience driving tests can be for first-time learners.
This has contributed to driving test failure in many instances as learners who have trained well enough might not be courageous enough to perform convincingly during the tests.
The mock Test driving lessons in Enfield have been designed to combat this issue.
In Enfield, we offer top-notch Mock-tests. Learners understand the effect this has on their driving test experience and it helps learners get confident.
It also helps them assess their capabilities and deficiencies. Hence, it is one of our most demanded service.
This is one of our secrets to a high pass rate of learners who trust us to take them through their driving test journey.
Little wonder why we are one of the most sought after driving school for pretest lessons in Ireland.
Passing the Driving Test Enfield with Ease
It is every learner's dream to pass the driving test in their first attempt without much stress.
At the National Driving School Enfield, we are dedicated to making that dream come true.
Over the years we have built our reputation as one of the most reliable driving schools in Ireland.
By putting together an effective curriculum of activities that help learners navigate the learning curve with ease and at the same time, we ensure a less stressful training period for our learners.
This approach to driving test preparation makes our learners go to the driving test examiner with the confidence that they are going to pass easily.
You are welcome to join us for your driving test lessons and we will prepare you well enough to pass the driving test with ease.
We offer the best driving school services in Enfield
After 32 years we know exactly what the tester wants to see and our relationship with the RSA is extremely positive as they know the standards we set for others to follow.
This is possible because of the structure we have built over the years.
At the National Driving School Enfield, we have driving lesson instructors who have gained several years of experience in training learners in preparation for the driving tests.
They already know all the bottlenecks you are likely to encounter and the best methods of dealing with them.
Also, the driving lesson environment is one of the best available in Enfield.
Interestingly, we make efforts to provide all the essential pieces of equipment needed to make you learn seamlessly and become ready to pass the driving test convincingly.
We look forward to hearing from you soon.
---
Driving Lessons Enfield FAQ
When selecting a driving school in Enfield, you should check for proven passes as well as success rates. Analyse reviews, different social media posts, as well as ask friends. Here are some FAQs:
Still looking for a reliable Driving School?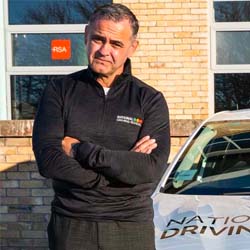 Here at National Driving School we are positioned to take you and your driving needs to the next level.
We have elevated ourselves to become a household name and the leading provider of driving lessons in Dublin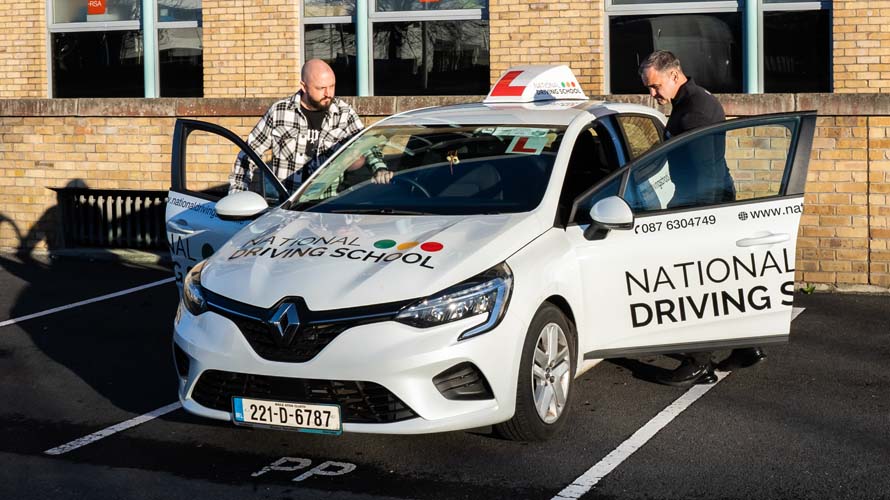 Why Choose National?
Arrive on time, Everytime
Pick-up & Drop-offs
Clean & Modern Cars
Flexible Booking Times
Fully Qualified Instructors
Find out more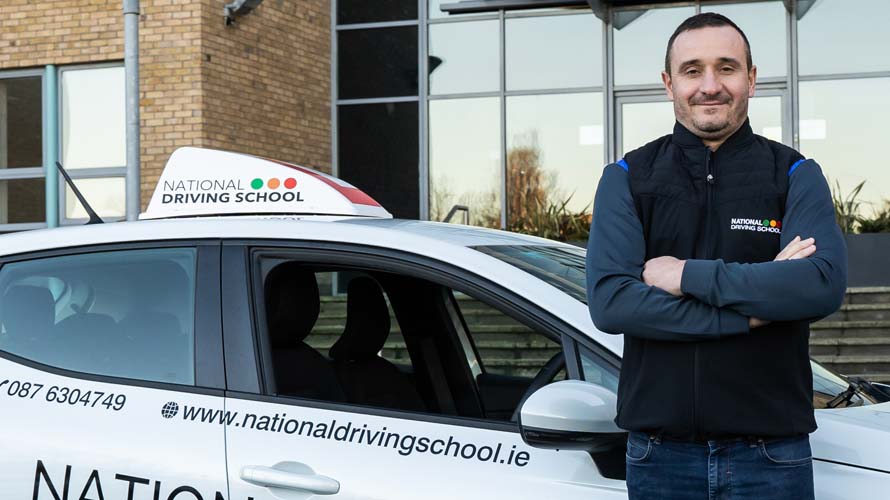 Need Help?
If you need any help choosing lessons or general questions you can get in touch.
30 Years Experiance
Male & Female Instructors
Contact Us