If you are learning to drive as a beginner, there is no doubt that you will have some burning questions. Applying for a learner's driver's license could also be an affair that burns a lot of questions through you. We assume one of these is if you can drive with passengers in your vehicle with a learner's permit.
In this article, we will go into details on the Irish Learner's permit. This will include guidelines on to apply for the permit as well as things that you can do with the permit. From this article, you will learn if you can drive with passengers in the car with the learner's permit.
Download Rules of The Road PDF
The learner's permit is the least document required to drive a car in a public place. The learner's permit must be for the appropriate category of vehicle, and it must always be with you whenever you are driving.
Applying for a Learner's Permit:
To apply for a learner permit, you must be a resident of Ireland. To be considered a resident of Ireland if as a result of personal or occupational association, you usually live in the country for at least 185 days in each calendar year.
The Road Safety Authority is tasked with the responsibility of driver licensing, and the National Driver License Service (NDLS) manages license applications and renewals. When applying for your first learner permit, you are required to visit an NDLS center.
To obtain your first learner permit, you have to apply in person to one of the NDLS centers. However, they are provisions for you to able to renew your learner's permit online. If you apply in person, you will not be required to provide photographs with your application as your photo and signature will be digitally retrieved.
Proof of identity is however needed. There is a need to complete the learner permit application form. These forms can be obtained from the NDLS centers, driving centers, driving theory test centers and Garda stations.
To apply for your first learner's permit, you need to bring a completed application form also with the following documents:
Your driver theory test certificate
Photographic ID
Proof of your residency entitlement
Evidence of your PPS Number
Proof of address.
Driving Theory Test for a Learner's Permit
It is important that you have a valid driver theory test certificate to get your first learner permit. It the case that your learner permit expired more than five years ago, it is necessary that you undergo and pass the theory test again to get a learner permit.
Essential Driver Training (EDT)
It is equally important that you complete the essential driver Training (EDT) of 12 one-hour lessons with an approved driving instructor. In the case where you have a driving license from a country not recognized for your driving license exchange, you will be required to go through the complete licensing procedure to get an Irish driving license.
However, you only need to take the essential driver training lessons instead of the normal 12 lessons.
It is important to note that your progress will be recorded in a special logbook. There is also a need for an experienced driver who supervises your driving practice outside of lessons and updates your logbook.
This is because when you take your driving test, you may have to show your completed logbook to the examiner.
Rules for obtaining and Using a Driver's License. (Can you carry Passengers in your vehicle with the permit?)
You must hold a learner permit for your category of the vehicle before you can start to drive on the public roads in Ireland. When driving on a learner's permit, it is mandatory that you always have someone with a full driving license in the car with you. This person must have had their driving license for not less than two years.
Learner permit holders for cars must display L-plates to the front and rear of the vehicle they are driving at all times. The plate should be a red 'L' on a white background and should not be less than 15cm high with a border of at least 2cm.
You are not allowed to draw a trailer, drive on a motorway, act as an accompanying driver or carry other people for reward.
If you have a learner's permit for a work vehicle, you should not carry a passenger unless the vehicle is designed to do so. It is also crucial that the passenger is a qualified driver who has held a driving license for a work vehicle for at least two years.
Still looking for a reliable Driving School?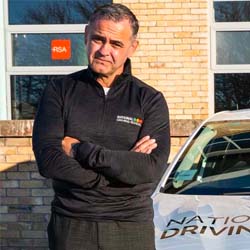 Here at National Driving School we are positioned to take you and your driving needs to the next level.
We have elevated ourselves to become a household name and the leading provider of driving lessons in Dublin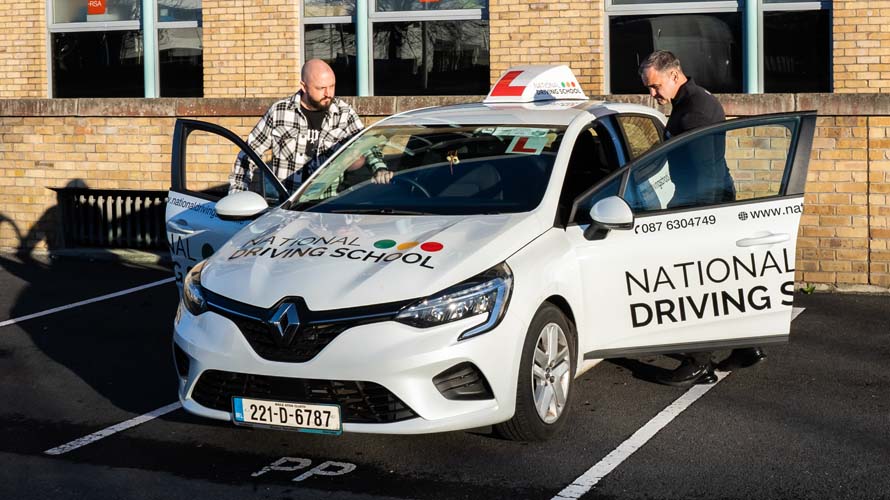 Why Choose National?
Arrive on time, Everytime
Pick-up & Drop-offs
Clean & Modern Cars
Flexible Booking Times
Fully Qualified Instructors
Find out more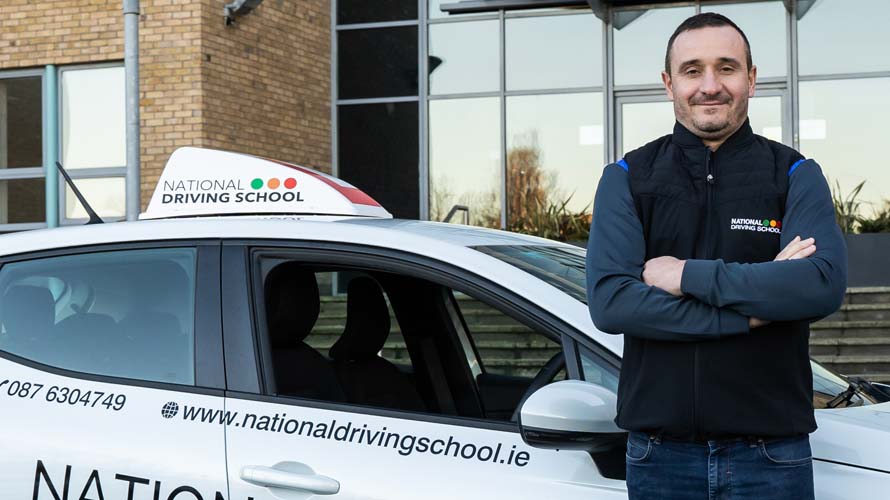 Need Help?
If you need any help choosing lessons or general questions you can get in touch.
30 Years Experiance
Male & Female Instructors
Contact Us